The Servo Auto Champ 3 is a cost effective method to chamfer large volumes of bars and requires no change parts. Just set it up for the desired size and push the bar to the stock stop. The bar is detected, clamped, PRECISION CHAMFERED and released automatically! Cycle times of just 4-8 seconds once the bar is detected at the material stop. The actual cycle time is dependent on material and depth of cut.
The JF Berns Company has over 25 years of chamfering experience with over 1,000 chamfering machines sold. The Servo Auto Champ 3 has the ability to chamfer a wide range of materials. Send us a sample and we can test cut your material at our facility.
Servo Auto Champ 3 Features:
Solid design, rugged construction for chatter free operation
In-line 4:1 planetary gearbox spindle
Cat 40 taper style tool holder for repeatable concentric tool change

Not interchangeable with other manufacturer's Cat 40 tooling

Standard 2HP spindle motor (optional 3HP)
Accurate ball screw servo drive
Yaskawa: Top quality / super reliable servo motor brand
Wide base, quality pre-loaded THK linear bearings/ blocks
Tooling containment feature
Standard carbide inserts (with multiple cutting edges) used for standard tooling
Adjustable part stop for longer tools (mechanical)
Adjustable bar stick-out position (programmable)
Narrow profile self-centering clamping (engineered just for this application)
No clamping change out parts required (no collets for standard bar diameter range)!
Always concentric clamping even if bar diameter varies
Improved chip management
Large chip chute
7" TFT color touch screen
20 recipe storage standard
Quick changeovers with teach function
Electronic hand wheel adjustment
Programmable spindle speed
Programmable feed speeds
Programmable depth of cut
Auto bar detect – no operator pushbutton or foot pedal to initiate cycle
Chamfer 30, 45, 60 and special angles available
Other available tools: Face, Face and Chamfer, Turn and Chamfer (up to 2.50" turn length), ID/OD/Face tube head, center drill, drill, radius and special designed profile tools.
Centerline height 41"
Optional equipment: Micro-drop mister, Auto Micro-drop mister, 3HP spindle motor, larger servo, 460V supply, Castors, 100 recipe storage, adjustable bar stand, Adjustable V-Channel lead in bracket, hanging chip bin.
Designed and manufactured in Cincinnati, Ohio!
Quality manual, parts list, and support
Servo driven chamfer head
True in-line spindle with precision bearings
Easy and fast setup – teach function
Easy to adjust feed speed, rotation speed, depth of cut.
Touchscreen interface
Size recipe storage
On screen diagnostics
Cam action stop arm
3-Jaw chuck – no change parts!
2HP, 3 phase motor
230VAC (optional 460VAC)
Ball bearing ways
Chamfering at 30 deg
Chamfering at 45, 60 or special angle
Turn and Chamfer (often used for collet feed systems)
ID/OD Tubing Chamfers
More.. see Tooling page
Steel
Stainless Steel
Titanium
Inconel
Others

Diameter: Round: 0.10″ – 3.00′ Standard*
*0.10″ – 0.24″ requires a small stock collet adapter per diameter, 0.25″-3.00″ no change parts required!
0.625″ – 3.50″ Optional – With jaw change (must be ordered in this configuration)
Hex: 0.25″ – 3.00″ Standard, no collets required
Square: 0.25″ – 2.00″ requires a square stock collet adapter per size
Minimum Length: 4.00″ (Parts 2″ – 2.9″ may be front loaded with an optional back stop)
Maximum Length: None
Examples of bars chamfered/turned/faced/center drilled with our product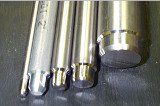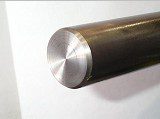 Mild Steel
Face and Chamfer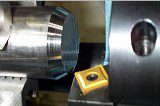 Stainless Steel
45 degree chamfer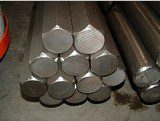 Hex Bars – 3″
30 degree chamfer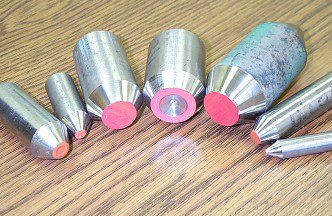 Inconel & Titanium
Deep chamfers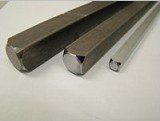 Mild Steel – Square Bars
30 degree chamfer
Interrupted cut