Spindle Liners (also referred to as filler tubes, reduction tubes, master liners or sleeves), are used to reduce the I.D. of a CNC Lathe spindle. Clearance is application and material dependent, but usually they are sized to 0.030″-0.060″ over the diameter of the bar being machined.
The result is faster machining speeds and closer machining tolerances. Spindle liners are used in lathes often in conjunction with bar feeders, bar loaders, baster supports and bar pullers.
The JF Berns Company manufactures the best quality spindle liners in the industry.

Best Quality, Fastest Deliveries!!
Easy to Order: Minimal information required
Includes mounting holes and hardware for attachment to lathe. No drilling required!
Permanently marked on liner & easy to choose correct liner, easy to re-order.
All liners are designed to be securely mounted to the back of the spindle. Some competitive producers rely on the end user to drill holes or even suggest not securely mounting a liner that spins thousands of RPMs!
Most of our liners are provided with our unique easy-out system and free removal tool. Really nice for recessed spindles!
We are the industry leader with over 25 years of experience and with a database of over 75,000 spindle liners manufactured. More experience, less problems!
Increase Lathe Bar Length Capacity
Extended Spindle Liners will allow for a longer bar to be run in the lathe. If the extension is longer than the coolant collector, we can also provide the coolant collect or extension.
Longer bar = less material waste
Fewer cuts on 12′ bars
Fewer remnants
More efficient bar feeder use
Bridge gap between bar feeder and spindle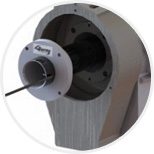 The newest improvement to our liners is the easy out system. Most of our liners come with a short extension that includes a small cross hole. This enables the operator to use our Easy Out Tool to gain leverage for easy liner removal. This is especially great for spindles that are recessed from the guarding or for liners that have been in the machine for a long time. The tool and hanger are included with all first time lathe spindle liner orders. No extra charge on the liners! Free tool! Free magnetic tool holder! It couldn't be any easier!
Quick Change Spindle Liners
With this patented system, a spindle liner can be exchanged in a matter of seconds without tools or loose pieces such as screws or retaining rings. Just insert the liner through the adapter into the lathe and rotate the liner 30 degrees in either direction.
This will automatically lock the liner in place. To remove the liner, just pull the spring loaded pin and reverse the procedure. The price of quick change spindle liners is the same as our standard liners. Each CNC lathe will require the purchase of one quick change adapter.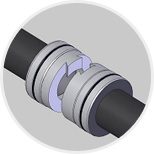 Two-Piece Liners are required when the bar feeder has a limited retract area. There is not enough room to extract a full length liner. The JF Berns standard two-piece liner incorporates a dove-tail design so that less room is required to insert or remove the liners. Quick, easy and a high quality connection.

To find out more on when to use metal spindle liners vs. urethane spindle liners, CLICK HERE.
Our extensive database of machine data for spindle liners includes models from these lathe manufacturers:
Ace, Aero, Alpha, Amera Seiki, Buildwell, Chandox, Chia Her, Chiron, Citizen, Clausing, Cybertec, Daewoo, DMG, Doosan, Emco Maier, Eurotech, Fortune, Ganesh, Gildemeister, Haas, Hainbuch, Hanwha, Hardinge, Hitachi Seiki, Howa, Hurco, Hwacheon, Hyundai, Index, Johnford, Khan, Kia, Ksi, Leadwell, Matsumoto, Mazak, Mighty, Miyano, Monarch, Mori Seiki, Nakamura Tome, Nexturn, Nomura, Okuma, Riken, Rohm, Romi, Samchully, Star, Strong, Suhner, Takamaz, Takisawa, Tonfou, Traub, Tsugami, Wasino, Willemin-Macodel, Yama Seiki, YCM, Supermax, YCI and more!